Roll over image to zoom in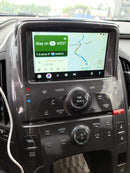 Description
JUST PLUG IN AND LET YOUR PHONE DO THE NAVIGATING. AND TEXTING. AND PHONE CALLING! 
In today's day and age, everyone and their mamas are plastered to their phones. It's like a lifeline. If you've sat in a new car recently, you've noticed that most new cars on the road today offer smartphone integration for both Apple and/or Android phones.
If you've ever grappled around with your phone while in your car and had an intuition that there must be a better, safer and smarter way to use a phone in your car, then you were predicting the arrival of smartphone integration with AutoPlay.

With Smartphone Integration it is possible to connect & control your Android or Apple telephone to your OEM LCD and radio controls.


Plug and Play

Integrates to OEM Radio

Uses factory radio controls

OEM like experience

Questions about functionality or fitment?  Please contact us!
Fitment:
FAQ
What happens if an item I purchased is not in stock?
When we receive an order that is placed for product, we will keep the order in our system and ship the item as soon as it becomes available. If the ETA of the out of stock item changes, we will notify you via email of any additional wait times or significant shipping delays. Should you have any questions about the status of the order, or if you need to change or modify the order at any time, please contact us for assistance.
What if I want my order shipped to a location other than my billing address?
If you would like to have item(s) shipped to an address other than your billing address, please note that your order may require additional verification and may be subject to processing delays. We suggest allowing extra time for order fulfillment if you are shipping to an alternate address and have a specific delivery deadline. If you have any questions about the verification of your order please feel free to contact us.
Can I cancel my order?
If you wish to cancel your order, please contact us for assistance. We can cancel any order that has not finished processed. If your order has already finished processing or has already been shipped, you must go through the complete return process in order to obtain a refund for your order. For more information about the terms and conditions which will limit your return, please refer to our Returns and Exchanges page.
What should I do if I want to return a product?
In order to return a product a Return Merchandise Authorization (RMA) number is required. An RMA can be obtained by contacting GCH Automotive Systems directly via Email or Phone. All returns are REQUIRED to be accompanied by an RMA in order to complete the return. Before returning your product, we ask that you completely read the guidelines found on our Returns and Exchanges page to ensure your return shipment meets all of the RMA conditions and return policy requirements. Failure to comply with the terms stated in our return policy and on the RMA form may result in delayed return processing and/or refusal of returned packages. Please be aware that GCH Automotive Systems will not accept a return if the item has been opened, installed, or otherwise used in any way. Items that were shipped incorrectly, have been damaged in transit, or which require warranty repair or replacement are not covered by our Standard Return Policy and must be reviewed by a member of our customer service department. If you have any questions regarding the return process that have not been answered here, or on our returns and exchanges page, please contact one of our customer service representatives.
What should I do if I received the wrong item?
If you think you've received the wrong product, please double-check the part number on the product label with the part number listed on your packing slip. If those numbers do not match, please contact one of our customer service representatives before opening or using your product. We recommend you have your order number and product packaging on hand to expedite your call. Do not discard any of the parts or packaging as these items will be needed in order to qualify for a return and/or replacement shipment.
What should I do if my shipment was delivered damaged?
If your shipment becomes damaged or lost in transit, please notify one of our customer service representatives immediately. Contact details including telephone numbers, email addresses can all be found on our Connect with US page. Please do not discard any boxes or packaging materials that were included with the shipment. All original products and packaging materials must be provided in order to fully process a damage claim. GCH Automotive Systems is not liable for shipping claims that are denied due to customer negligence.
What happens if my item proves defective after installation?
If you have recently purchased a product from GCH Automotive Systems and you are concerned about the fitment or performance of your item, please contact a member of our customer service department for assistance. Our customer service representatives can provide installation support, troubleshooting advice, and assistance in identifying the possibility of any manufacturer defects. If we suspect your product does have serious defects, our customer service department can serve as a contact with the manufacturer to help arrange a warranty inspection and, if applicable, any necessary repairs or replacement shipments. If you wish, you may also contact the manufacturer directly for information regarding product eligibility and specific terms and conditions of warranty coverage.
Does

GCH Automotive Systems

 charge sales tax?
GCH Automotive Systems

only charges sales tax on orders placed by California residents. If your order is shipped to any other state besides this one, sales tax will not be charged.
Payment & Security
Your payment information is processed securely. We do not store credit card details nor have access to your credit card information.